Writer. Editor. Teacher.
"Nancy Owen Nelson writes with sensitivity and wit about the ways in which the family she grew up in was both burdened and enriched by life 'on the move.'"
– Judith Hillman Paterson, author of Sweet Mystery: A Memoir of Remembering (Farrar-Strauss Giroux, 1997, University of Alabama Press, 2001)
"Nancy has the unique ability to synthesize her intellectual, academic bent with a creative but honest assessment of her life."
– Kate Robinson, Starstone Lit. Services
"One highly respected agent once told me that the words 'literary criticism' were the death knell for creative writing. I begged to differ then, and I beg to differ today. It was my reading, analysis, and teaching of creative literature which led me to my own expression of life issues in memoir."
– Nancy Owen Nelson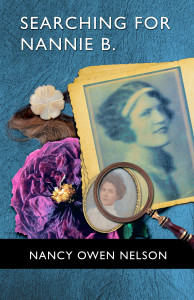 Searching for Nannie B. : Connecting Three Generations of Southern Women
"more than a story about the search for the author's grandmother in its invocation of a rich ancestry. . . . Personal but never simply self-referential, clear, purposeful, engaging."  
Bruce Weigl, author of The Abundance of Nothing, finalist for the Pulitzer Prize in Poetry, 2013.
---
 Enjoy my recent interview on EPN radio!

for an autographed copy
Check out my
new blog
on Nannie B!